From all around the world, over 2,000,000 small and large publishers use Google AdSense to earn money through advertising. Before you take that step for your own website and apply for a Google AdSense account, there's plenty to consider: from where to place ads, to the type of products those ads sell, we realize the importance of keeping the content on your site relevant to your audience and keeping your audience happy.
In this post, we're going to cover the fundamentals of Google AdSense and give you clear steps on how you can earn extra income from your content without disrupting the flow of your website.
AdSense is a free, simple way to make money by placing ads on your website.
AdSense is Google's ad network that does the hard work of bringing together the parties that participate in online advertising, making it simpler for everyone involved to succeed. It builds relationships with businesses looking to advertise, and websites like yours looking to make money by selling ads. Through an ad network, AdWords advertisers can get access to a wide variety of different online inventory at scale. And, they also help publishers find advertisers quickly. By working with an ad network like Google AdSense, you can spend less time marketing and selling your advertising space and more time focused on creating the best content for your users.
After you sign up for an account with a policy-compliant website and are approved by AdSense, Google AdSense works behind the scenes to manage advertiser bids, inventory, and placements while focusing on increasing your earnings. It's important to know that in order to maintain ad serving on your website and keep your Google AdSense account active, it's the responsibility of the publisher to keep up to date with and adhere to the Google AdSense policies.
It's like an automatic car — it removes most of the manual adjustments, allowing you to cruise along with less effort. You still need regular "tune ups" to get optimal performance, but you won't need to shift gears to get from point A to point B.
Put Google AdSense To Work For You
To make money from AdSense, you'll need a steady stream of website traffic. It's a best practices to consistently post high-quality content, as it can attract more loyal visitors with fresh, relevant content.
If you have a website that you update regularly, then why not sign up and see if AdSense works for you? The process is completely free and easy to add to your site. See the steps below or visit our help center to learn more.
With Google AdSense, you're in complete control of the type of ads that appear on your site.
Google AdSense is packed full of features designed to help you quickly and easily display content that fits naturally within your website.
You call the shots on the ads that appear on your website
Choose the ad formats you'd prefer (text, display, rich media etc.), then highlight where on your website you'd like them to display.
Block specific categories of ads that you don't want to display, so only products or businesses relevant to your content can bid on your inventory.
Adapt the look and feel of text ads to match the style of your website.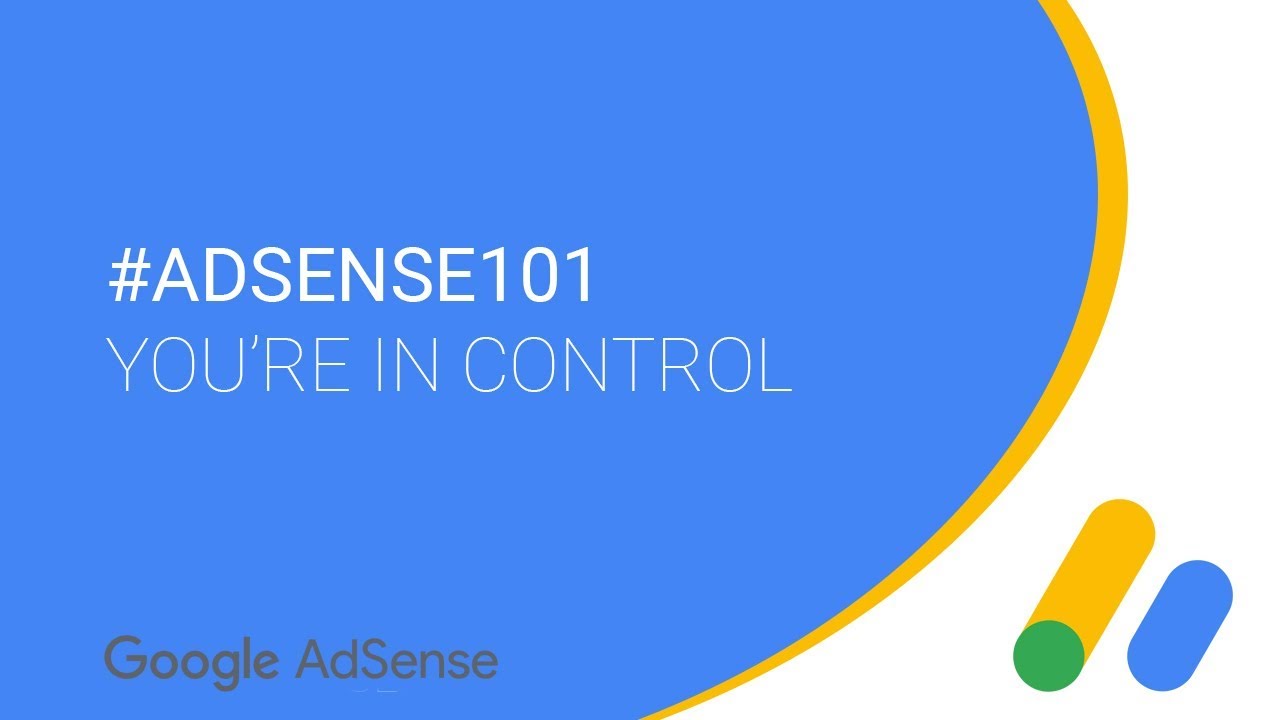 Measure and optimize performance
Performance reports provide key insights into how users engage with your content by measuring both your earnings and your performance across key engagement metrics.
Leverage these insights with the Optimization page within your Google AdSense account. It's a one-stop shop for improving your account performance, providing you with tailored recommendations and A/B experiments to help you make more informed decisions.
Mobile friendly for you and your users
For you, the AdSense mobile app provides you with an account overview, as well as access to detailed performance reports on all key metrics.
For your users, Google AdSense has mobile-friendly ad formats like responsive ad units that automatically adapt to different screen sizes or page-level ads that are displayed at optimal times when they're likely to perform well for you and provide a good experience for your users.
AdSense is time efficient. Publishers that use our QuickStart feature only need to place a snippet of code in the tag of their policy compliant web pages, then we'll will take care of the rest.
Here's how you can get started With Google AdSense
Before you can start earning money from your content, you'll have to submit your website for approval. Follow these best-practice steps before the application to increase your chances of a quick and easy approval:
Make sure you include an 'About' page, 'Contact' page, and a 'Privacy' page on your site.
Include as much original content as possible; websites that post duplicate content will not be considered.
Make sure you have full ownership of the website you're submitting or permission from the owner.
Ensure that your site adheres to the AdSense program policies.
If you think Google AdSense is a fit for your website, then sign up now. After you've signed up you can submit your site to begin the approval process. To begin the approval process, log into your new Google AdSense account, click on Settings in your account page, then click My Sites and then Add.
Once approved, your final step is to add the a provided snippet of code to your website (find detailed instructions here).
If your site averages more than 300,000 monthly views, then contact a Google AdSense specialist for help that's specific to your business. And if you'd like additional support with your account you can join an #AskAdSense support session on Twitter every Thursday at 9:30 am PT for our specialized guidance, tips, and account support.
Once you start earning money with AdSense, you can finally turn your #PassionIntoProfit.
Stay tuned for more insights on getting started with AdSense and optimizing your account right here on our blog and on our social channels.
Pros and Cons of Making Money With Google AdSense
The Google AdSense program has several great advantages including:
It's free to join.
Eligibility requirements are easy, which means you can monetize your website or blog even when it's new.
There is a variety of ad options and several that you can customize to fit the look and feel of your site.
Google pays monthly by direct deposit if you meet the $100 threshold.
You can run ads on several websites from one AdSense account.
There are options to run ads on mobile devices and RSS feeds.
You can easily add it to your Blogger and YouTube accounts, although with YouTube, you'll need to have at least 1,000 subscribers and 4,000 hours of watch time to run AdSense on your videos.
With that said, there are a few drawbacks to AdSense as well:
Google can terminate your account in an instant, and it's not very forgiving if you break the rules.
Like all forms of online income, you need traffic in order to make money.
When people click on an AdSense ad, you make some money, but your visitor also leaves your site, which means you lose the opportunity to make money with higher-paying affiliate products or your own products and services.
It doesn't necessarily pay more than other similar ad programs.
Google AdSense is a great monetization option, but it's not a get-rich-quick or make-money-doing-nothing program. Further, Google has rules that some bloggers seem to miss when reading the terms of service. As a result, many website owners have found out the hard way that they'd violated a Google policy and have lost their account forever. https://638b477bfd92c9785462d6e8302ac7a6.safeframe.googlesyndication.com/safeframe/1-0-37/html/container.html
Types of Google AdSense Ads
Google offers a variety of ad types to run on your website, including:
Text: Text ads use words, either as an Ad Unit (one offer) or a Link Unit (list of offers), and come in a variety of sizes. You can customize the color of the box, text, and link.
Images: Image ads are graphic ads. They come in a variety of sizes. You can choose an ad feed option that mixes both text and image ads.
Rich Media: These are interactive ad types that can include HTML, video, and flash.
Video
Animated Image
AdSense for Search: This allows you to have a Google search box on your website or blog. When a user enters a term and conducts a search, a search results page opens with AdSense ads. You can customize the color scheme of the search results page to harmonize with your website.
Google AdSense Payments
Google pays through direct deposit or checks each month your earnings reach or exceed $100. If you don't earn $100 in one month, your earnings roll over and are added to the next month. Each time you reach the $100 threshold, Google will issue a payment on the next payment period. Through your Google AdSense account, you can see your current earnings, what ads are generating the most clicks, and other helpful data.
Making Money With Google AdSense
Making a significant amount of money with Google AdSense requires a plan. Here are tips for maximizing AdSense revenue:
Read and adhere to Google's rules: Webmasters must comply with Google's webmaster policies, as well as the AdSense program policy.
Don't click on your own ads or ask others to click on them: Incentivizing clicks, buying Pay Per Click (PPC) space, or using a program designed to drive traffic to AdSense pages are against the rules. Remember, Google isn't very forgiving about breaking the rules, so be sure to adhere to them.
Have great content your target market wants to read: Ultimately, money is made, whether through AdSense or other monetization methods, by providing valuable content and quality traffic to your blog or website.
Use honest, organic traffic-building website marketing techniques: Search engine optimization and article marketing are effective in getting free traffic to your site.
Make sure your website/blog is optimized for mobile (responsive): The number of people who use mobile devices is high. Also make sure you're using responsive ads so Google can send appropriate ad sizes to mobile devices viewing your site.
Test ad types and placement to find the options that lead to the most income: Start with standard sizes (300×250, 728×90, and 160×600), and then switch them out to see if one size leads to more clicks than another.
Max out your ad placement: You're allowed three standard ad placements per page. Use them all for maximum benefit.
Have ads above the fold: This is the section of your page that is viewable without scrolling.
Have a leader board ad below your header/logo: Instead of putting an ad at the very top of the page, put it near your logo where it's more likely to be noticed.
Include in-content ads for visibility: This means having ads within your articles, which can increase clicks because they'll be seen during the course of reading the post.
Monitor your results: Google can overwhelm you with tools and feedback but do your best to analyze your data to see what it says about your results so you can make the most of your effort.
Read email from Google: This can be especially important if Google is sending a warning about something it doesn't like on your site. Failure to deal with Google's complaints will lead to termination in the program.
Advanced Google AdSense Tips
Once you have ads running on your site, you'll want to make sure you are getting the most of your AdSense program. Here are some additional tips to consider when you're ready to boost your AdSense income:
Run experiments: You can A/B test your ads through AdSense.
Experiment with link and box colors: If your colors match your theme, consider changing them up to see if it impacts results.
Enable placement targeting: This allows advertisers to choose where their ads appear.
Set up custom channels: This gives you a better sense of what's working and not working to generate income on your site.